FREQUENTLY ASKED QUESTIONS
1. Do you have a physical shop front?
MAD & DARLING is a one woman business. All products are designed and created directly from the home studio. MAD & DARLING do not currently have a physical shop front for you to visit, however, you may opt for Local Pick Up, at checkout. By selecting Local Pick Up, you are committing to collecting your goods, contact free, from a secure location in Edithvale, Victoria.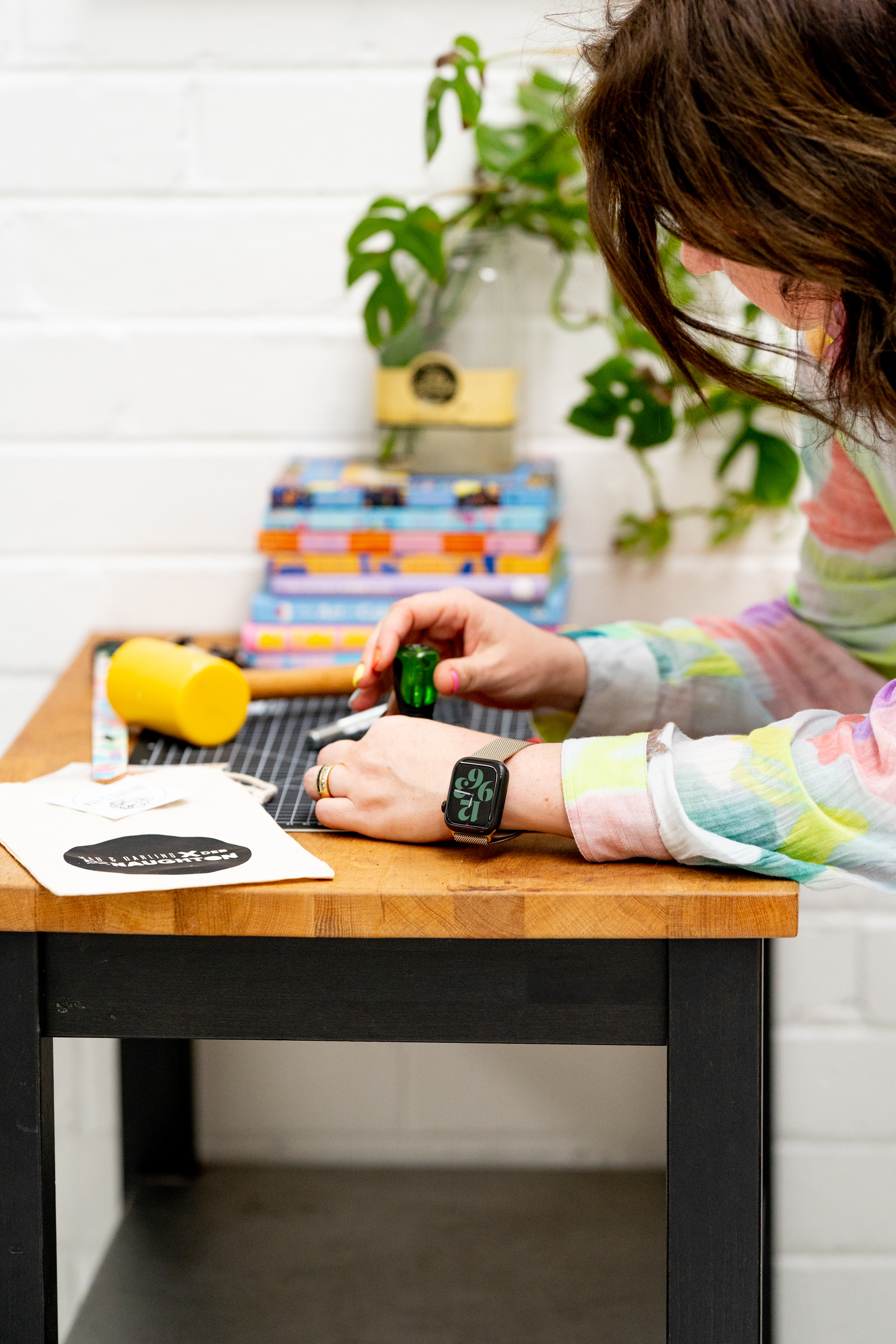 Jessi working from her home studio on the 2022 Artist Collaboration Range.

2. What types of payment do you accept?
Currently MAD & DARLING operates exclusively with PayPal. If you do not have a PayPal account, you can opt to create an account, or you may pay using a debit or credit card via the PayPal interface without joining.
3. I have sensitive skin. What metals are used in your earrings?
MAD & DARLING exclusively use hypoallergenic metals for all earrings. Materials are routinely listed in each product's listing. Metals used include platinum, surgical steel and stainless steel.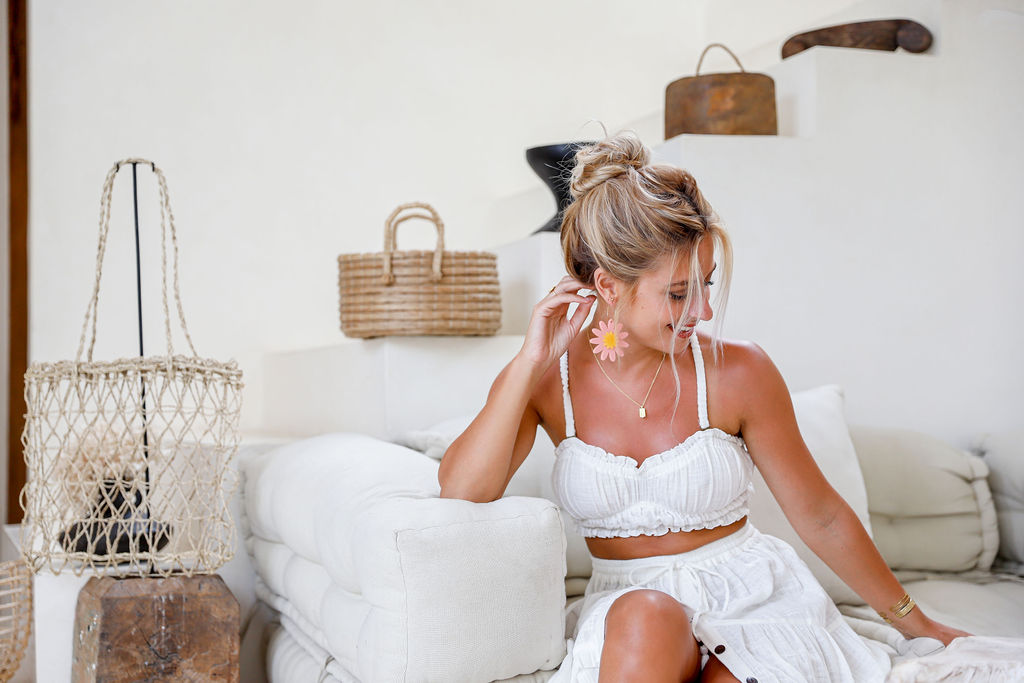 Emmely wears the Alex Daisy earrings and is dressed by Tropical Dream . Photographed by Vanilla Palm Abode 2022

4. I am unsure what size dog collar to buy. Can you help me?
Please visit the Size Guide to ensure you purchase the most appropriately sized collar for your dog. Measuring your dog's neck prior to purchase is highly recommended.
Example of Sizing:
If your dog's neck circumference is 36cm, we suggest you add 2cm to your dog's neck circumference and purchase a collar that correlates to 38cm (medium).
If MAD & DARLING do not cater to your dog's neck circumference, please contact us to discuss a custom collar.
We regret to inform you that the Artist Collaboration range is exclusive of sizes S, M and L only, catering to a neck circumference of 28cm to 60cm.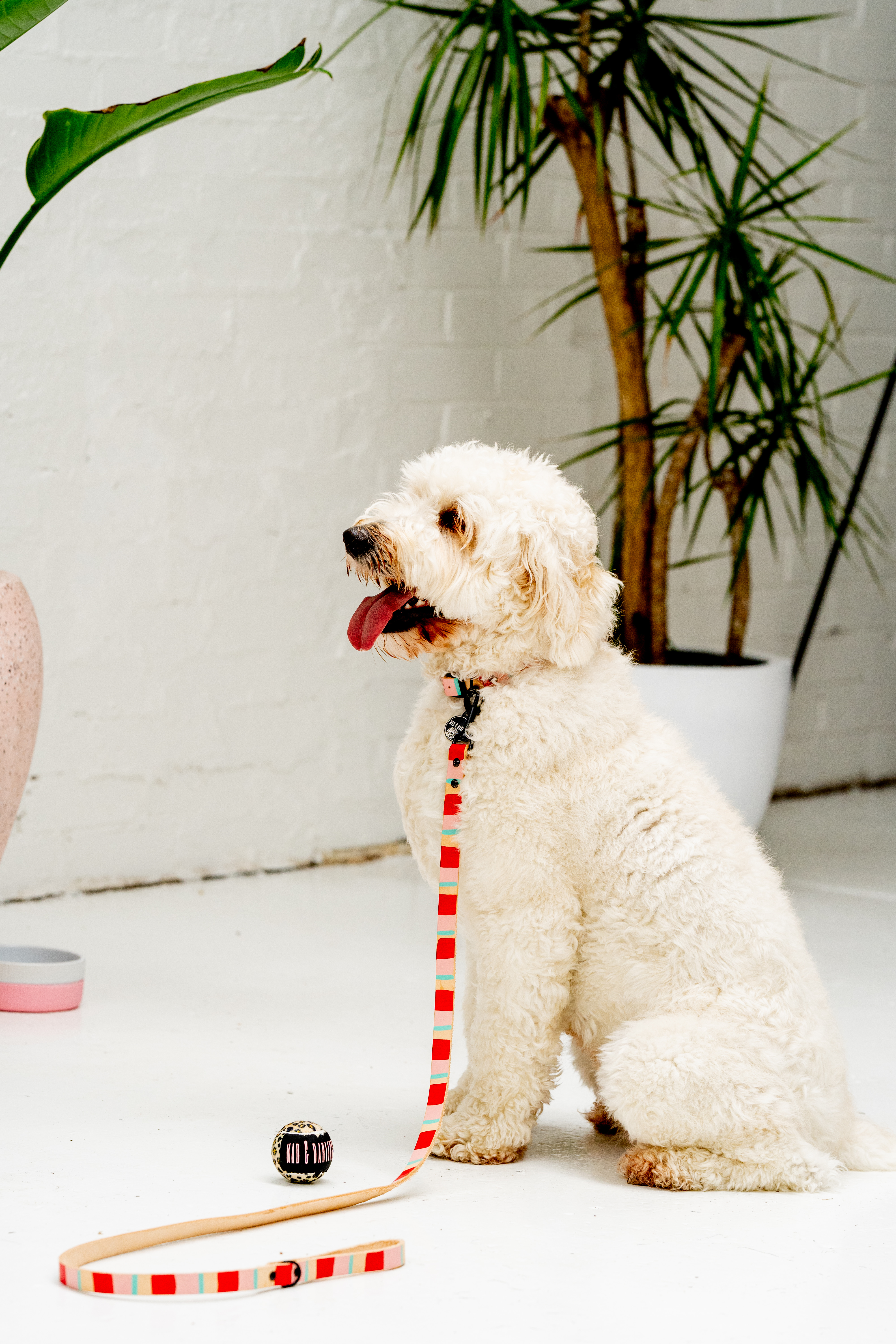 Nahla is a fully grown, Groodle and wears a size medium collar.

5. I would like to send a MAD & DARLING item as a gift, do you offer a personalised message?
Yes, MAD & DARLING are more than happy to include a complimentary personalised postcard with your order. There are a variety of designs available to suit most occassions. Please leave a note at checkout requesting a personalised card and you will then be emailed for your choice or card and message. MAD & DARLING take great pleasure in hand writing your wishes to any lucky recipient.
6. What are the shipping costs?
MAD & DARLING charge a flat rate of $10. We exclusively use Australia Post Express Post, unless otherwise communicated. MAD & DARLING do not currently ship outside of Australia.
7. When will I receive my purchase?
MAD & DARLING know that you will be eager to receive your purchase, which is why we use the express shipping service. All orders are dispatched within 48hrs of purchase*, unless otherwise communicated. If you require your parcel sooner please contact us before purchasing. *Custom items can take up to 5 days to be dispatched
8. Do you offer a Returns and Exchange policy?
MAD & DARLING know that you will have high expectations of your purchased products and that buying online can sometimes be a little tricky. Please note that due to hygiene reasons, we do not accept returns or exchange on earrings. We also do not accept returns or exchanges on our Artist Collaboration pieces, or any customised pieces. In light of our policy, please order carefully.
If a product arrives, other than those listed above, and is not what you expected, MAD & DARLING offer a 14 day from purchase exchange, or store credit.

Please contact us to arrange returns or exchanges. Your item must be returned as new, unworn and arrive in the same condition that you received it.
*Please note: As a small business, MAD & DARLING are unable to cover the return shipping costs of your goods. Opting for tracked shipping is strongly recommend for all returns/exchanges, as there is no guarantee your parcel will reach our address, if you choose not to use a tracked service.
9. My item is faulty. What should I do?
Eeeek! MAD & DARLING are so sorry.
Jessi works tirelessly behind the scenes to ensure each and every product adheres to strict quality control, however she is only human. In the event of an item arriving faulty, MAD & DARLING sincerely apologise. Please contact us at your earliest convenience, so that we can resolve the problem for you in a timely manner.
10. Do you offer custom made products?
MAD & DARLING welcome the opportunity to collaborate with other small businesses or clients wishing to create a more personalised product. Please feel free to make contact to discuss your ideas.

Personalised Key Fob, photographed by Julieanne Perara Photography and used in her photography business as a creative way to present a USB of images to her wedding clients.
11. What leather do you use? Do you use vegan leather?
All leather used by MAD & DARLING is cut from premium 3mm to 3.4mm double shoulder, natural vegetable tanned leather. No, MAD & DARLING do not currently work with vegan leather.
12. My dog collar seems very stiff. What should I do?
No need to fret! If you have trouble feeding the leather through the buckle on your first attempt, please persist. We use high quality, strong 3mm thick leather for all our collars. The leather is naturally stiff to begin with and will soften with wear.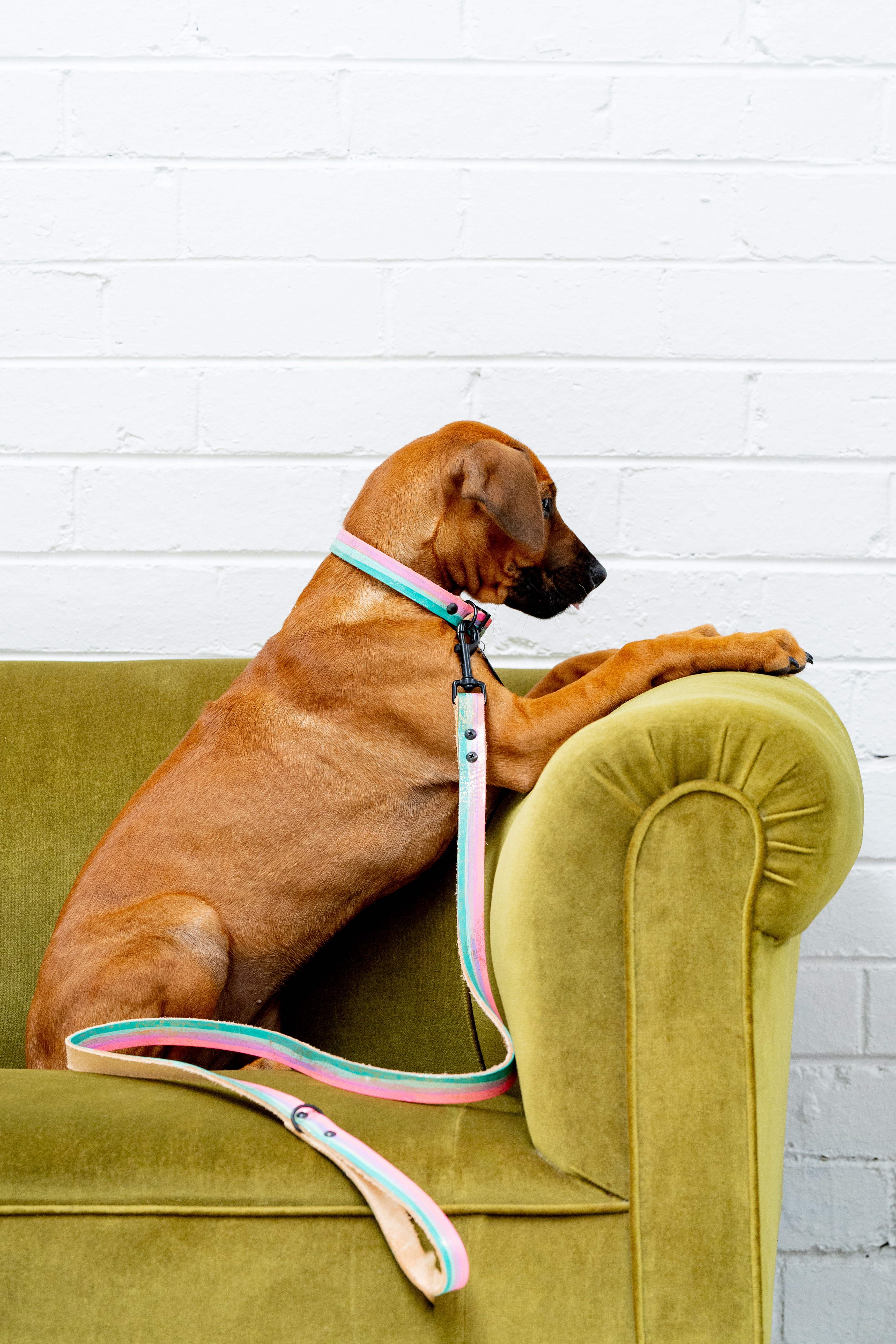 Peach modelling the 'Unicorn Skye' collar & lead from the 2022 Artist Collaboration.

13. Do you have a postal address?

Yes, the MAD & DARLING mailing address is:

PO Box 5015
Mordialloc, VIC, 3195