ARTIST SPOTLIGHT
Profile: Deb McNaughton
MAD AND DARLING's pioneering Artist Collaboration was with none other than, arguably, Melbourne's most colourful artist Deb McNaughton. It was a no-brainer to, again, select Deb to collaborate on MAD & DARLING's 2022 Spring/Summer Collaboration.
Deb encompasses a similar brand image to MAD & DARLING, by aspiring to create happiness with her carefully selected colour palette and use of bold pattern. You'd have to agree that Deb's passion for making the world a brighter place through her art, is almost palpable.
Brandy wears Party Mix Collar and Lead from the sold out MAD & DARLING 2021 collaboration.
The 2021 MAD & DARLING pet accessory range saw Deb experiment with painting on leather for the first time. Deb's spontaneous style offers bright colour combinations, fashion trends, as well as patterns found in nature. She pushes artistic boundaries by painting on an array of mediums, ranging from pot plants and woven baskets, to wall murals. 2022 saw Deb commissioned by the local council, to create a steel sculpture, aptly titled 'Raindrops and Sunbeams', as part of the accessible bay trail that now runs from Seaford to Port Melbourne.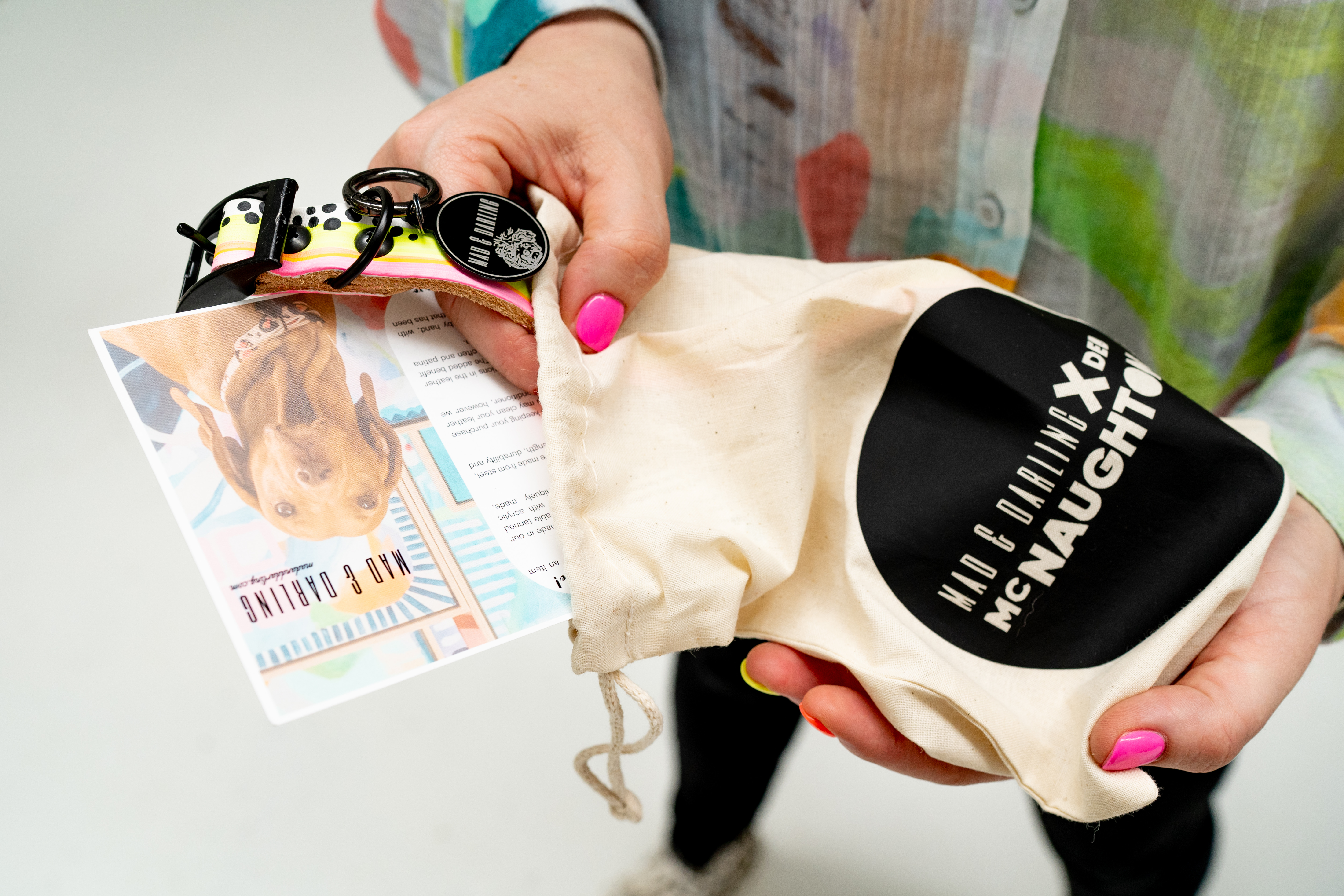 Jessi displays the 'Sunny Days' Collar, from the 2022 collaboration.
We hope you enjoy our 2022 collaboration and choose to leave Deb's colourful stamp on the world, by purchasing from our hand-painted and hand crafted pet accessory range.
Jessi and Deb photographed in Deb McNaughton's Melbourne Studio. Brandy wears the Animal Crackers collar from the 2021 Collaboration.